Precisa montar um kit completo para sua Blackmagic Pocket 4k ou 6k? Então dá uma olhadinha em todos estes acessórios!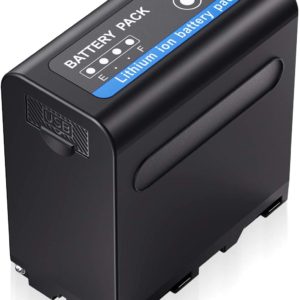 Professional Sony Camcorder Replacement Battery
This Powerextra Multifunctional Battery Pack is a professional replacement battery for Sony NP-F975, NP-F970, NP-F960, NP-F950 or NP-F930. The well-made Sony camcorder replacement battery is completely compatible with all Sony original equipment including Sony chargers. The camcorder battery pack is made up of premium battery cells to gurantee stable power supply and longer battery life.
Notice: Please store the battery in cool(-10℃-60℃) and dry environment.
Multifunctional Battery Pack
The newly-designed battery back is more than just a replacement battery for Sony camcorders. The multifunctional and multipurpose battery pack also works as a USB-enabled power bank. Other than the power supply for Sony equipment, it also serves all your USB devices on the go.
Compatible With Sony Digital Camercoder includes:
CCD-SC55, SC65 CCD-TR67 CCD-TR76 CCD-TR87 CCD-TR516, TR555 CCD-TR716 CCD-TR818 CCD-TR910 TR917 TR930 TR940 CCD-TR3000 CCD-TR3300 CCD-TRV15 CCD-TRV25 CCD-TRV36 TRV37 CCD-TRV41 TRV43 TRV46 CCD-TRV51 TRV57 TRV58 CCD-TRV62 TRV65 TRV66 TRV67 TRV68 CCD-TRV72 TRV75 CCD-TRV81 TRV82 TRV85 TRV87 TRV88 CCD-TRV90 TRV91 TRV93 TRV95 TRV98 TRV99 CCD-TRV101 CCD-TRV215 CCD-TRV615 CCD-TRV715 CCD-TRV815 DCR-SC100 DCR-TR7000 DCR-TRV7 DCR-TRV9 DCR-TRV110 TRV120 TRV130 DCR-TRV210 DCR-TRV310 TRV315 TRV320 DCR-TRV510 TRV520 TRV525 DCR-TRV720 DCR-TRV820 DCR-TRV900 DCR-VX2000 DCR-VX2100 FDR-AX1 GV-D200 GV-D700 HVL-LBPB HDR-AX2000 HDR-FX1 HDR-FX7 HDR-FX1000 HVR-HD1000U HVR-V1U HVR-Z1U HVR-Z5U HVR-Z7U HXR-MC2000U HXR-NX5 NEX-EA50UH NEX-FS100U NEX-FS700U
Package included:
1 x Multifunctional Battery Pack
1 x Micro USB Cable
1 x DC Cable
1 x Micro Fiber Cleaning Cloth